Last updated on July 26th, 2022 at 05:49 am
*This post may contain affiliate links. As an Amazon Associate we earn from qualifying purchases.
The Zone: the enlightening second-world that many athletes enter into during competition that can help them to perform better and focus more easily. The zone, or flow, is a place of mental neutrality and power, but being in this state does not necessarily mean that one is in competition. In fact, the zone can be reached in any action. It simply means that one's mind is free of thought and ready to react to the next stimuli, whatever that may be.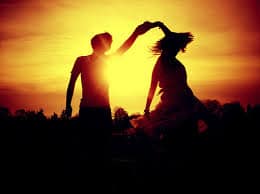 For example,  a Swing Dancer or professional dancer, can often experience the zone while dancing. In a partner dance, a couple can achieve a powerful tunnel-vision between one another, almost like mental synchronization. The follower cannot anticipate their partner's next choice of move, but they can clear their mind of apprehension and calmly allow their partner to lead them in the fluidity of the dance. This release of tension and acceptance of whatever may come is, in fact, an example of the zone. They dance better when they are in the flow and free of mental tension, just as an athlete feels themselves perform better in a competition once the flow has been reached.
The musician Don Williams gives another example: "Every day you drive your car without thought. You don't try to be in the zone; you let yourself be free of thought. You drive your car in the zone because you have trained it to, through repetition. You have trained your fighting skills through repetitious acts also. Stop thinking and you can fight in the zone!"
The zone is a mental state, whereas winning is a physical state. It is extremely helpful and in some cases necessary to perform successfully in sport, but achieving this mental state does not require a competition. During a social dance, or when one is driving a car, there is no competition. No one is trying to win gold, and yet the zone is an integral part of these experiences. Practice letting your mind go of thoughts and only focusing on the next stimuli. Once you have addressed each stimuli, let it go and calmly await the next one.
The Zone is a place of powerful, tranquil readiness no matter what you are preparing for.