Last updated on October 10th, 2022 at 12:07 am
*This post may contain affiliate links. As an Amazon Associate we earn from qualifying purchases.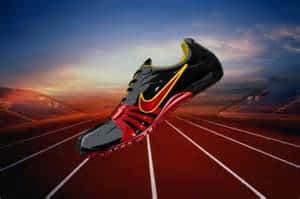 This is one of those "back when I was young" stories.
In the 1980s my high school track team won back-to-back state titles. At the time I had no idea how young track was to women and how lucky I was that our school even had a team. When we qualified to run in the state meet it meant that we had to wear spikes to compete due to the surface of the track.
The concept of spikes was new to us since we typically just wore running shoes and ran on cement or blacktop surfaces. We were pretty excited when our coach pulled out the box of used spikes he kept and told us to find two shoes that fit even if they were not a pair. At the time I did not know or care that a person could buy his or her own spikes!
So off to the State meet we went. I ran the 100-m and won. My time even qualified me to compete in the TAC/USA meet held at UCLA. My high school coach received calls from several university coaches encouraging me to compete in this race, so we booked a flight and went to California. Prior to leaving he again pulled out the box of used spikes and I found two to take with me.
When we arrived in Los Angeles we went directly to the track at UCLA. I recall standing in the bleachers and looking at this incredibly tall man standing next to me while he stood hanging his arm on a limb of a tree! I asked my coach, Rich Rollins, who this man was and he quickly told me it was Wilt Chamberlin, the famous pro basketball player. Unfortunately, I did not have time to meet him because I had to compete, but I heard later that Mr. Chamberlin saw my spikes and asked my coach about them.
After my p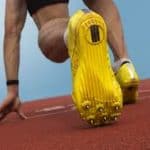 reliminary round of the 100-m I returned to the bleachers. Mr. Chamberlin approached my coach and gave him a Nike box and told him to give it to me. Inside was a brand new pair of spikes! I had my first ever, personal pair of running spikes. Can you imagine the feeling? I don't have his picture or his autograph but I still have the memory of my first pair of spikes and I still have those shoes in their Nike box! Eventually I ran for Wisconsin and wore many, many new pairs of spikes (thank you, UW-Madison and Nike) but that first pair will always be the most special. Ultimately, I am reminded of how important a pair of shoes can be to a young athlete and the challenge I pose for myself and others is to buy a child or high school athlete a pair of shoes. I challenge those who know the significance of a pair of shoes to pay their benefits forward and spread the privilege and opportunity that athletic shoes can bring.