Last updated on August 2nd, 2022 at 03:49 am
*This post may contain affiliate links. As an Amazon Associate we earn from qualifying purchases.
It was a blast watching the US women's soccer team become the 2015 World Champions. They seemed to embody some of the characteristics associated with team cohesion or team unity.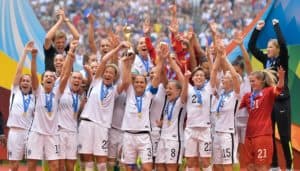 So What Exactly is Team Cohesion?
Sports psychologist Mark Anshel noted that team cohesion has been defined as "the player's sense of togetherness"  and others have defined it as the tendency for a group to stick together and remain united as they pursue a goal. But how can athletes push each other, compete for playing time, and still have cohesion? It seems there might be some conflict between teams when this happens. And some research seems to support this. Findings seem mixed and it may be surprising to learn that researchers have even found that teams may not have cohesion and still excel and have success.
So Why Care About Team Cohesion?
It seems that teams who have cohesion have more satisfaction and this includes feeling more social satisfaction with each other. This is big. Liking and respecting your teammates leads to more enjoyment and this can fuel better playing. So maybe you don't have to have the cohesion to do well as a team but it makes the process of playing together more meaningful and fun.
Keys to Building Team Cohesion
1. You need good leadership. This means someone has to be directing everyone. This does not necessarily have to be the coach, it could be a player or captain or subgroup of players. The key is leadership from someone.
2. You need good communication. Communication is both spoken and unspoken (smiles, frowns, etc) and this ingredient needs to be present. It is helpful if the coach can give feedback to all players, not just a few. But, another leader of the team can do this as well. The key is all players are important and each deserves feedback and not just the negative. And remember that using humor and praise are good communication tools.
3. Each player needs to understand their role on the team and each player should know and understand the roles of all players.
Many years ago when I was running track, our coach made us cheer all members of the team. If we were not racing we were watching our teammates and supporting them. So even though track can be an individual sport our coach made us a very unified team. I believe our team cohesion was a primary reason we won all four Big 10 Outdoor Track & Field Championships while I was in college. It did not matter if you scored one point or 10 because everyone was important.